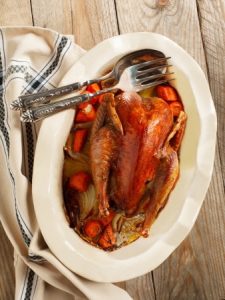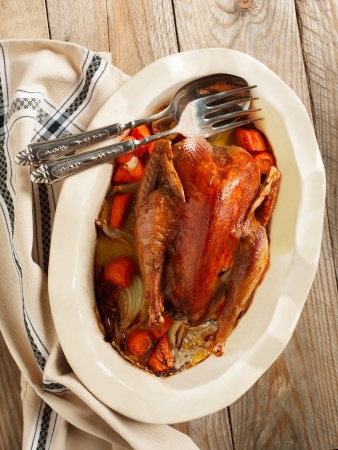 Thanksgiving is a time to take a break from your hectic work schedule, spend time with family and – perhaps most importantly – feast upon a wide array of trimmings and desserts! Turkey is, of course, the traditional centerpiece of the Thanksgiving meal, but you can make a change at your dinner table while still staying true to holiday tradition.
There are plenty of alternative delicious birds that can be featured at your table this holiday season. Let's take a look at some recipes that dare to challenge that of the traditional turkey dinner.
Pheasant
Pheasant is a very versatile dish that has proven to be delicious enough to be a featured meal at any Thanksgiving table. While the presentation of a roasted pheasant may not look traditional, the taste will give any turkey a run for its money. It is prepared by loosening the skin over the breast, where parsnips and leeks may be inserted for flavor, as FoodWine notes.
Quail
Quail is yet another seemingly atypical Thanksgiving bird, but it is a wonderful tasty meal, especially if you are having a smaller gathering. Quail is excellent when roasted, like in this recipe from Food Network. All it takes are shallots, salt, pepper and olive oil. Plus, quail doesn't need to cook for nearly as long as a large turkey does, so your friends and family will be able to enjoy your meal sooner – plus they'll still think you're are a master chef.
Chukar
Roast chukar is yet another smaller dish that is out of this world! Some recipes call for a lemon and lime brine, which includes flavorful herbs and spices such as rosemary, thyme and sage to create a savory dish. This recipe from Hunter Angler Gardener Cook will keep your bird succulent and juicy, while adding a natural zest that will make your guests want second and even third helpings.
Of course, the best tasting bird is the one you got yourself, and at Meadow Brook Game Farm, we offer guided game bird hunting to give you just that opportunity. Many of our clients prepare the birds they have hunted for a delicious meal, whether during the holidays or at any other time of year. Get some delicious birds of your own and plan your guided hunt with Meadow Brook Game Farm today. To learn more or to book a hunting trip, give us a call at 615-888-2411.