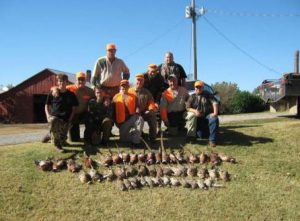 If you love Meadow Brook Game Farm as much as we do, then you want to spend as much time here as possible. That's why we've created a new membership plan for all of our clients. This program gets you a bounty of hunting and fishing fun for a great price and the benefits are incredible. Let's take a closer look at what a membership will get you.
Incredible Savings
Signing up for a membership is the gift that keeps on giving, and once you pay your one-time fee, you are doing your family a great service. Membership covers your entire family, all the way down to children or grandchildren, meaning you can share the benefits of membership with generations of family to create a lifetime of memories. Plus, the savings don't stop at Meadow Brook Game Farm, as you'll also be eligible for discounts in 20 other industries.
Get Paid
What's better than getting a lifetime membership to a great game farm? How about getting paid to have a lifetime membership to a great game farm! That's right! Through our referral program, you can actually make money for every new person that you refer to us. This could provide you with serious incentives and even serious income!
Business Benefits
This membership is even more exciting and advantageous if you are a business owner. Since this is a business membership, if you join as a way to host clients or partners, the membership may be tax deductible. There are also extra benefits available for businessowners. Call us to learn more.
Hunting Deals
When you sign up for this membership, you also get significant savings for your future hunts. This includes $100 in savings per year on fishing and bird hunts for five years, as well as $50 savings per year for five years on all dove hunts. After that, you'll receive a 10 percent discount per year.
With all of these amazing perks, there is no reason why you should not sign up for the new membership option today. As an added incentive, the first 25 to sign up for a membership will receive an extra $100 in savings at the farm. Don't miss out on your chance to save big in 2017 – and into the future! Call us at 615-633-7532 to learn more or email meadowbrook@nctc.com to sign up today!