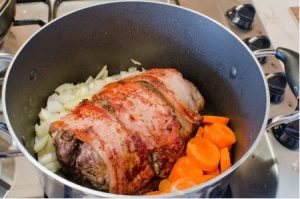 Pheasant hunting can be an enjoyable pastime, whether shared with friends, family or co-workers, but perhaps the best part of a successful pheasant hunt is afterwards when you are able to eat your catch. Pheasant is a delicious game bird, but preparation is key to making it as tasty as possible. Let's take a look at some of the best ways to prepare pheasant.
The first step in cooking pheasant is to dress the bird, of course. There are several ways to dress a pheasant, including options that do not require plucking its feathers. This can still be a time-consuming process, particularly after a successful hunt that has yielded several birds. We offer game bird cleaning for our guests who do not care to tackle this project on their own, and package the birds for you to take home.
Once your pheasant has been cleaned it is time to consider how to cook it. There are many recipes for pheasant, and ultimately which one is best will depend on your own tastes and preferences.
The first decision will be whether to leave the skin on or to remove it. Cooking the pheasant with the skin helps to keep the meat moist, and many people enjoy eating the skin, as well.
One popular way to cook pheasant adds another favorite of many people – bacon! Cooking pheasant with bacon can be as simple as sprinkling the bird with poultry seasoning, wrapping the bird in bacon, and roasting it in the oven. Bacon can also be used with a number of other seasonings and marinades to create a recipe that is just perfect for your tastes. Bacon is not only a tasty side to accompany the roasted pheasant, it also helps to keep the bird moist as it cooks, notes Game Bird Hunts.
Another alternative for cooking pheasant is to smoke it. Smoked pheasant may be prepared with any number of marinades or seasonings, and may also be paired with bacon. Smoking pheasant can provide a delicious and unique flavor, and is a great option to cook several birds for a group if your smoker can accommodate multiple birds at once.
Pheasant can be prepared much like chicken or turkey, as well. The bird can be roasted, smoked, fried or cooked in a slow cooker. Popular seasonings choices for pheasant include rosemary, thyme, salt, pepper and soy sauce. Since pheasant meat is so lean, many people like to coat the bird with a fat like butter, olive oil or bacon to prevent it from drying out too much during cooking.
Meadow Brook Game Farm is the oldest hunting preserve in Tennessee. Our preserve attracts hunters from across the U.S. and Canada, and all pheasant hunts at our preserve are guaranteed with minimums with no maximum limits. Contact us today by calling 615-888-2411 to learn more or to reserve your hunt.