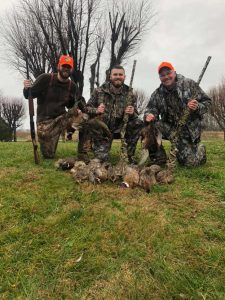 Meadow Brook Game Farm is a 1,200-acre shooting preserve one hour north of Nashville, Tennessee. Hunters come from near and far to hunt game birds at Meadow Brook.
Distinct Look
If you've never hunted pheasants before, what should you know about them? Pheasants are multi-colored, long-tailed birds who really give hunters a run for their money. Known as sly, crafty and elusive, these birds can be unpredictable. Hunting them is a good, worthwhile challenge.
Don't Pass By
While most hunters want to cover as much ground as possible on their hunt, they often make the mistake of passing by birds. It's better to take it slowly through an area, really making an effort to check every clump of weeds in case birds might be hiding there. Want to drive pheasants crazy? Use the "stop and go" procedure. By pausing briefly at intervals while walking through an open field or dense cover, you'll make the birds nervous and hopefully cause them to flush.
Near Their Food Source
Pheasants tend to be located near the food they eat– so if there's corn, soybean or sorghum around, you're likely going to find pheasants there at one time or another. Also, look for hedgerows, which consist of multi-flora and other cover in a tunnel-like shape– pheasants tend to hide in these. You should also check ditches.
If and when you can bring a hunting dog along, do so– they'll help you find birds. Don't forget to check the edges of bodies of water, especially if the shoreline is brushy.
Do you want to go on a group hunt for pheasant, chukar or quail? In Middle Tennessee, the best place for that is Meadow Brook Game Farm. The bird-hunting season runs November 1st through March 30th, with hunts taking place six days a week, Mondays through Saturdays. Meadow Brook is able to furnish guides and dogs to help ensure a great hunt– and we can even clean the birds and package them, too. You and a friend or family member should come hunting at Meadow Brook– and if you want to bring a bigger group, we can handle 20+ people! For reservations, please call 615-888-2411.