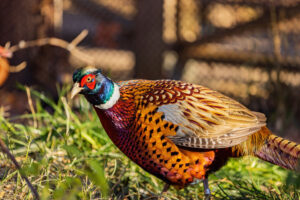 Ring-necked pheasants are birds that came to the U.S. from Asia back in the 1880s. They've since become one of our country's most popular upland game birds, known for bursting into flight from brushy cover. They're also seen in open fields and along weedy roadsides.
Traits of Ring-Necked Pheasants
Male ring-necked pheasants have iridescent copper/gold plumage along with red faces and crisp white collars. Females are brown in color, blending in with their field habitat.
Ring-necked pheasants are often found near water, so they'd likely be at marsh edges though they've adapted, over the years, to living in open country. Sometimes they'll be in trees, but usually they'll feed on ground, scratching with their feet or digging with their bills to uncover food.
With powerful breast muscles, pheasants are able to use those muscles to escape trouble quickly– that's why they're known for flushing near vertically into the air and then flying away fast– at speeds of up to 40 miles per hour!
Something interesting about ring-necked pheasants is this: females may lay their eggs in the nests of other ground-nesting birds! Then the protective ring-necked male(s) will harass the male gray partridge or greater prairie-chicken, chasing them away from their female(s) nests. If you see that happening in person, it's fascinating to watch. Another interesting thing about ring-necked pheasants is that they may just decide to remain dormant for days at a time during extremely cold weather.
Pheasant Hunting in Tennessee
Are you a hunter who wants to hunt ring-necked pheasant(s)? Come to Meadow Brook Game Farm, a 1,200-acre shooting preserve north of Nashville, Tennessee. Hunters come from near and far to hunt pheasant, chukar and quail at Meadow Brook Game Farm, which has been in operation since the 1950s.
For more information about ring-necked pheasant hunts in Tennessee, please call 615-888-2411 or email info@meadowbrookgamefarm.com.