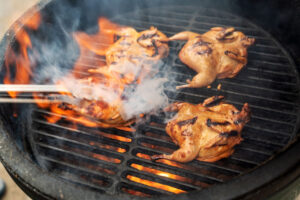 In Westmoreland, Tennessee, hunters hunt quail at Meadow Brook Game Farm. Now you're not likely going to find quail on the menu at McDonald's or Panera Bread, but know this: it's got a taste similar to chicken and it is often served in finer restaurants.
For those who like to hunt and eat quail, a day at Meadow Brook Game Farm could easily translate into many quail meals in the weeks and months ahead. As long as you make sure the quail you've got is fully cooked through thanks to roasting it or frying it, this poultry makes a great main dish. That said, what can you serve with quail? Well, the easiest choices are potatoes and vegetables on the side!
Potatoes
Sure, you could serve baked potatoes with quail, but be a bit more adventurous. How about garlic parmesan roasted potatoes for a nice side dish? Potatoes on their own have a crispy exterior and a fluffy interior. Add some garlic and parmesan cheese, though, and you add the kind of flavors that pair well with quail.
Veggies
Now about vegetables… What goes best with quail? Well, Mexican-style green beans are a smart choice. Cook them with some garlic and onions, adding chili powder– yum!
Miscellaneous Sides
Other good sides that go well with quail meals include creamy coleslaw, cheesy rice pilaf, apple cranberry sauce, cauliflower fried rice, sweet potatoes with chorizo and cornbread pudding.
Traditional poultry– aka chicken– is fine. But every once in a while it's nice to mix things up a bit with alternatives, right? You can hunt for quail at Meadow Brook Game Farm in Tennessee. What you shoot and kill can be brought home for future meals; Quail are good for you, affordable and, most of all, delicious, so consider eating more quail.
Do you want to know more about quail hunts at Meadow Brook Game Farm? Just call 615-888-2411 or email info@meadowbroomgamefarm.com.